Affordable Movers and Packers in Dubai: Your Guide to Hassle-Free Relocation
Moving to a new home can be an exciting adventure, but the process of packing, loading, and transporting your belongings can be a daunting task. Finding an affordable and reliable moving company is crucial to ensure a stress-free relocation experience. In this blog, we will explore the world of cheap movers and packers in Dubai, offering valuable insights, tips, and frequently asked questions to help you make the right choice.
The Need for Cheap Movers and Packers in Dubai
Relocating to a new home or office is an exciting chapter in one's life. However, the process of moving can be challenging, time-consuming, and, if not planned correctly, costly. This is where the need for affordable movers and packers in Dubai becomes evident. When it comes to moving, whether it's within Dubai or to another city in the UAE, the services of professional movers and packers are invaluable. Affordable movers provide not only cost savings but also peace of mind. They are well-versed in navigating the unique challenges of Dubai's diverse neighborhoods and can ensure a smooth and efficient move, even on a budget.
Dubai is a bustling metropolis known for its rapid growth and diverse population. As a result, the demand for moving services is consistently high. People move for various reasons, such as job changes, lifestyle improvements, or expanding families. Regardless of the cause, hiring a professional moving company can make a world of difference.
Diverse Neighborhoods: Dubai is a city of contrasts, with neighborhoods ranging from luxurious urban areas to serene suburban communities. Navigating these diverse neighborhoods can be challenging for newcomers. Cheap movers and packers in Dubai have extensive experience in handling relocations within this dynamic city. They understand the nuances of each area, ensuring a seamless move regardless of your destination.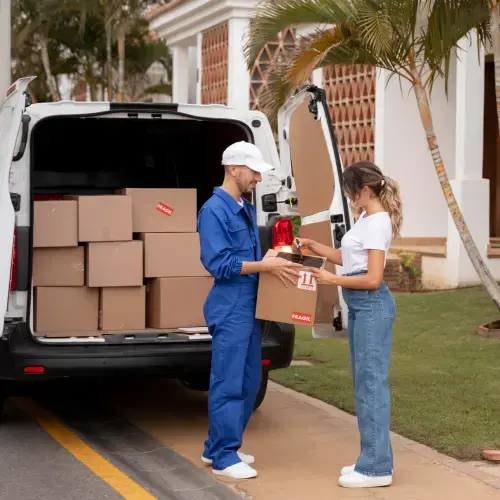 Cost Savings: Moving often comes with unexpected expenses, and the cost of relocation can add up quickly. Opting for affordable movers allows you to stay within your budget while still benefiting from expert services. These companies offer competitive rates without compromising on the quality of their work. Cost-conscious individuals and businesses can rely on them to deliver value for money.
Efficiency and Expertise: Moving involves numerous tasks, from packing fragile items to safely transporting bulky furniture. Without professional help, it's easy to become overwhelmed. Cheap movers and packers in Dubai have the expertise and resources to manage every aspect of your move efficiently. They come prepared with the necessary packing materials, tools, and transportation, ensuring that your belongings arrive at their destination intact.
Time Savings: Time is of the essence during a move, especially in a bustling city like Dubai. Cheap moving companies understand the importance of timely execution. They work diligently to complete your move promptly, allowing you to settle into your new space without unnecessary delays.
Peace of Mind: Moving can be stressful, but it doesn't have to be. Hiring affordable movers and packers provides peace of mind. You can trust that professionals will handle your possessions with care, mitigating the stress associated with a DIY move.
What to Look for in a Cheap Movers And Packers Company
Choosing the right Cheap Movers And Packers Company is a crucial decision. Look for a company with a proven track record, necessary licenses, and insurance. Online reviews and recommendations from friends or family can be valuable resources. Additionally, request written quotes and inquire about any hidden fees. A transparent and professional approach is a hallmark of a trustworthy mover.

Experience and Reputation: Begin your search by assessing a company's experience and reputation. Look for a moving company that has been in the business for several years and has a positive track record of successful moves. Online reviews and recommendations from friends or family can provide valuable insights into a company's reputation.
Licenses and Insurance: Ensure that the moving company you choose is licensed and insured. Licensing demonstrates that the company complies with local regulations, while insurance provides protection in case of any damage or loss of your belongings during the move. Request to see their license and insurance certificates before making a decision.
Transparent Pricing: Transparent pricing is a hallmark of a trustworthy moving company. Request a written quote that outlines all costs involved in your move. This should include the cost of packing materials, labor, transportation, and any additional services you may require. Be wary of companies that provide vague or incomplete estimates.
Additional Services: Consider the range of services offered by the moving company. While affordability is essential, it's equally crucial that the company can meet your specific needs. Do they offer packing and unpacking services, disassembly and reassembly of furniture, and storage solutions? Choose a company that provides the services you require for a stress-free move.
Customer Reviews and References: Take the time to read customer reviews and ask the moving company for references from previous clients. This can give you insights into the company's professionalism, punctuality, and the quality of their services. A company with numerous satisfied customers is more likely to meet your expectations.
Transparent Terms and Conditions: Review the company's terms and conditions carefully. Pay attention to cancellation policies, payment terms, and any potential additional charges. A reputable moving company will provide clear and fair terms to protect both parties.
Equipment and Resources: Ensure that the moving company has the necessary equipment and resources to handle your move efficiently. This includes well-maintained trucks, quality packing materials, and skilled personnel. An established moving company invests in the right tools and resources to ensure a smooth move.
Flexibility and Availability: Consider the company's flexibility and availability. Can they accommodate your preferred moving date and time? Some companies offer weekend and holiday moving services, providing flexibility to suit your schedule.
Top Affordable Moving Companies in Dubai
To assist you in your search for budget-friendly movers, we've compiled a list of some of the best movers and packers in Dubai. These companies offer competitive rates without compromising on quality. They cater to various types of moves, from local to international, ensuring that your specific needs are met.
Moving Services Offered by RightMovers
RightMovers offer a comprehensive range of services. They handle packing, disassembly, loading, transportation, unloading, and even unpacking if desired. With their expertise, you can rest assured that your belongings are in safe hands. Many also provide additional services, such as storage solutions, to accommodate your unique requirements.
Tips for a Smooth and Affordable Move
Executing a budget-friendly move requires careful planning. Start by decluttering your belongings to reduce the load. Obtain multiple quotes from moving companies to compare costs. Pack efficiently and use available resources, like free moving boxes. Planning your move during non-peak times can also result in cost savings. Lastly, consider any potential tax deductions related to your relocation expenses.
Frequently Asked Questions About Cheap Movers and Packers in Dubai